It feels like it's been forever since my last post. And I guess it has been since 5-6 months is basically forever in the Blogging World.
I'm not really back. But it's been ages since I posted. And I felt like writing. But when I sat down to actually write, I wasn't sure what to write about. So I decided to write about what life has been like the past six months. CAUTION: This is going to be a really long post.
Most of you are aware why I haven't been posting recently. I started my first job and it's incredibly hectic. I absolutely love my job, but it doesn't leave much time for anything else. The one day that I get off, I use it entirely to recover from the previous week and prepare myself for the upcoming one.
I'm a workaholic by nature. When I love something, I put my heart and soul into it. And the same has happened here. When I initially joined the project I'm currently working in, I was so enthusiastic, I wanted to learn everything at once. So I would take up everything. I used to be the first one in and the last one out. I worked all the time. I came on Saturdays and even volunteered to come on Sundays (which was denied btw).
Source: glasbergen.com
About a month into the project, I was at my wit's end. I suddenly realized that I couldn't do it anymore. I wasn't sleeping well. Out of office, all I ever thought about was the mountain of work I had pending. From what I've heard about the corporate world, someone like would be exploited to the maximum by a Manager. I had my friends telling me the same. They kept telling me not to let my Boss take me for granted.
Source: glasbergen.com
And that is when I realized how blessed I was to have the team that I do. My Team Lead shouted at me for taking up so much work and promptly assigned some of my work to my teammates. My Project Manager told me how impressed he was with my work, but how I needed to learn to balance everything. He taught me the need to delegate once in a while. He told me how he wanted me to do well and move ahead, but didn't want me to burn out before I even got there. He told me that it was okay to make mistakes, when I would beat myself up over every silly mistake I made. And he fought for me when one of my mistakes got escalated. When my senior PM wanted to put me in a job that is totally a useless one, my PM put his foot down and refused to release me from my team. At the time, I was really new and I thought it was a better position and I thought for a while that my PM had selfish intentions in not releasing me. Now I know better and I'm eternally thankful to him. When I had a huge fight with one of the developers, and I was seething with anger, one of my teammates left a chocolate at my desk with a note to 'Take a chill pill'. My anger instantly flew out the window.
I actually have a family at work. My team genuinely cares about each other and is always willing to help each other out. I have friends in the same company who are constantly cribbing about a bad team, or a not-so-cooperative boss, or just the fact that they have no one to share their concerns or ideas with. And it makes me realize how lucky I am. My PM always listens to us. I have a team that shares everything they know. There are a lot of people in my project who know a lot but are unwilling to share it with others. But my team always shares their knowledge. If they didn't, I wouldn't know half of what I know today.
Now, things are a little more stable and I don't have as much work as I used to. I spent the entire last week playing games on my computer. That is how much work I had. But on friday, work started coming, little by little. I'm really hoping next week is better and there is atleast some work. There's only so many games you can play and so long you can sit in the cafeteria before you're bored out of your mind.
So, apart from the actual work, the thing I enjoy most is trying out different outfits for work. My company is kind of strict about Formal Wear at work. But my boss is cool, and till the time he complains, I can pretty much wear whatever I want at work, a fact I take full advantage of. But Mon-Wed, I try to dress in formals as much as possible. But I got bored of the regular, Shirt-Pant combo about one month into starting work. So, I tried to spice up my outfits by wearing blouses, instead of shirts, jacket vests (they look extremely sexy), adding a scarf, etc. Skirts are strictly forbidden at my office. Else, I would have loved to experiment with those as well. I don't have pictures of my clothes. So, I googled and tried to find pictures of clothes with as close a resemblance to mine.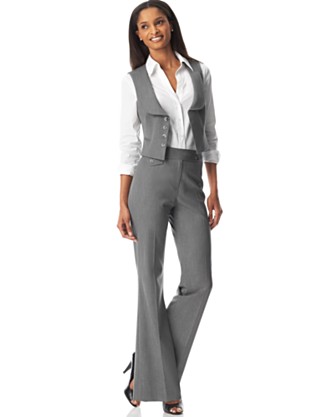 Jacket vests are undeniably sexy, whether it be on a man or a woman. The above picture is an exact duplicate of the vest i have, although mine is in Black. You needn't wear it in such a formal way though. I usually combine it with a button down shirt, skinny black pants and pumps. They make a sexy combination. Something like the pic below.
If you're bored of the same old shirts, try bright colors like Dark Pink, Red, Purple. Also try blouses. They're formal and yet stylish.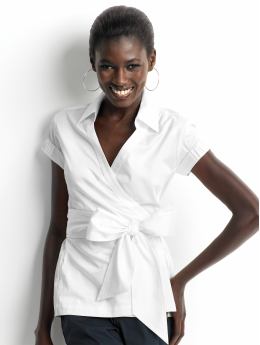 Another way to spice up a regular shirt would be to add a scarf to it. Allen Solly has some amazing scarves on sale, although a tad bit overpriced.
Add jewellery to your outfit. A smart bracelet or necklace can do magic to your outfit. A long string of pearls double looped around the shirt collar, or even a long pendant. Tennis bracelets or charm bracelets are a great addition.
Women in India often complain about not having enough options when it comes to Western Formals. It's true, but there's always a workaround. So, what are you waiting for? Go Shopping. I normally buy my formal wear from Allen Solly and Van Heusen. Both have a lot of great options for Women. My beloved black vest is from Van Heusen.
P.S. It feels great to write a post. I hopefully will be able to keep posting from time to time.